USC Football Ticket Package
The University of Southern California (USC) takes their football very seriously. And that's exactly how we treated the creation of their ticket package. Take a look below to see just how seriously.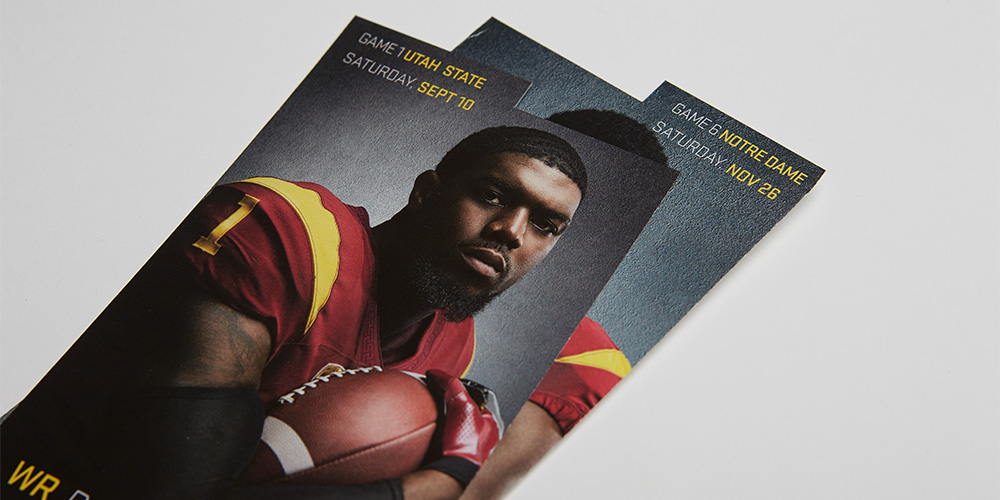 Quantity produced
Tickets: 330,000 (55,000 sets of 6)
Magazine: 15,000
Press(es) used
Tickets: Heidelberg Speedmaster XL-106-10P+UV, Domino K600I Inkjet
Magazine: Heidelberg Speedmaster XL-106-10P+UV, HP7600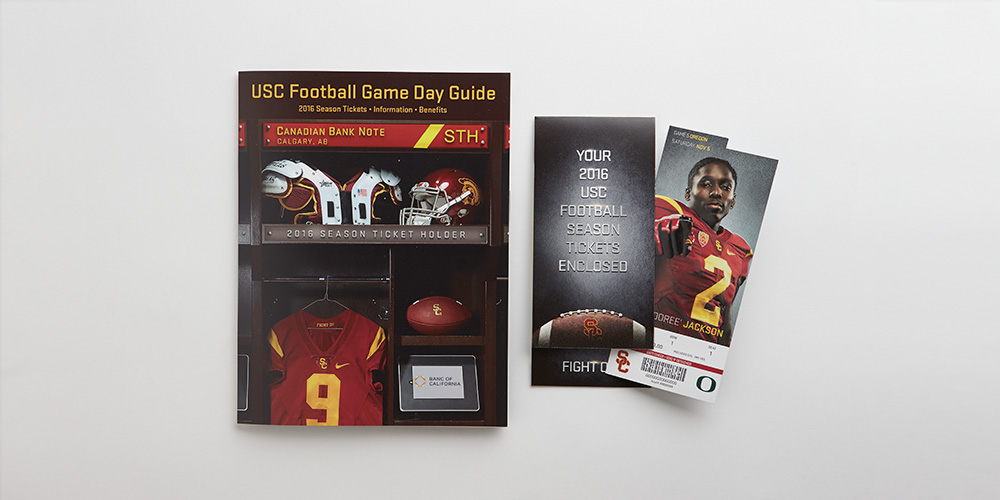 To produce tickets for the 2016 USC football season, we combined high quality UV offset print and UV effects with variable information inkjet print to enhance both appearance and security. The tickets were printed on the XL-106 using UV inks in addition to strikethrough reticulating varnish and high gloss spot varnish to add texture to the ticket. They were then imprinted with the variable event information. For further security, the tickets were imprinted with invisible UV ink – only visible under black-light UV lamp. Tickets were precision die-cut so that each was a different length and had a tab at the top displaying game information. The tickets then collate and nest within the ticket folder.
Before going into production, we had to undergo rigorous testing of inks and coatings to determine which effect to use, and the specific placement of the effect on each ticket – for example, high-gloss UV on the player picture with reticulated varnish around the player. Additionally we had to ensure the application of effects didn't interfere with the variable information added by inkjet printing.
This combination magazine and folder was created to package season tickets. The outside covers were produced with custom information to personalize it for each season ticket holder. Inside pages were produced using UV inks. Care had to be taken to color-match the digital components of the job as well as the enclosed tickets. Correct placement of the pocket on the inside back cover of the magazine was key and had to be precise in order to hold the ticket sleeve.
Needless to say, when it was all said and done, we'd delivered what could only be considered a touchdown.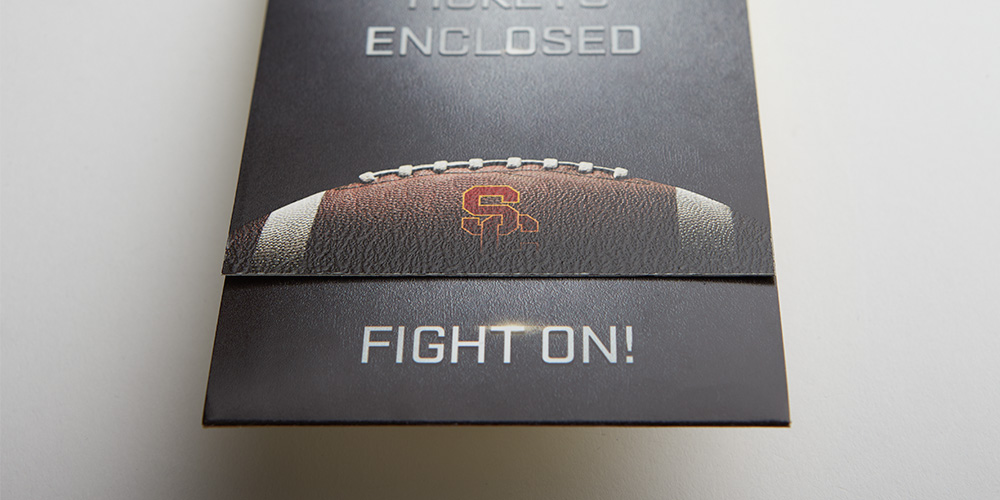 "Not Only is CBN's work technically leading edge, but taking steps to graphically incorporate security measures with aesthetic consideration, is a phenomenal bonus to both the end client USC, and us, Perceptiv, as the design firm. Even after so many years of doing this type of work, we know CBN is going to educate us to unheard of technical possibilities that only a shop like CBN can deliver." - Gary Davis, Perceptiv
"The packaging and shipping of the products was second to none as all pieces were delivered accurately and in a professional manner. I would highly recommend Canadian Bank Note to produce your ticket needs." - Cleff Smith, Daytona International Speedway
"We got rave reviews of the ticket and hospitability designs! Thank you CBN for showing me the ropes of designing custom ticket stock for a big event such as the A10 Conference Tournament." - Mike Oberst, PPG Paints Arena