We are pleased to present ourselves as a full-fledged operating division of Canadian Bank Note Company, Limited using the name and logo proudly.

Our history with Canadian Bank Note Company, Limited goes all the way back to 1981 when they acquired McAra Printing and was later strengthened with the addition of Unicom Graphics in 2015. With the acquisition of Unicom Graphics, we have significantly expanded our capabilities, making CBN Commercial Solutions Calgary's outstanding provider of print products and business solutions. For us it's about providing expert advice, and innovative products delivered on time. We will make your brand shine.
Talk to our team and find out how [TH]ink can work for you.
We provide marketing, communications, and business solutions
Every job may be different, but for us some things will never change – and that's providing the quality, trust and expert advice you need to get the most out of your job. Whether you're blowing the doors off with a state-of-the-art printed piece or printing something critical and confidential, you'll get the advice you need and the quality you expect.
We are the outstanding provider of print and services – from our complex integrated direct mail marketing solutions to our award-winning commercial print recognized by the Printing House Craftsmen, the Canadian Printing Awards and the Ad Rodeo Association. In fact, in 2016 we were the proud recipient of 7 Canadian Print Awards, consisting of 4 Gold and 3 Bronze in a variety of categories. And in 2017 we added 3 more to the list, 1 Gold and 2 Silver.
Why we're proud of our people
At CBN Commercial Solutions we put our people first, so they can put you first. We've created a place where creativity and collaboration meet results, generating the right business solutions for our customers. And we have fun doing it.
Leadership:
Dean McEhinney: General Manager
Todd Schmautz: Director of Sales and Marketing
Leigh Busch: Director of Operations
Jake McElhinney : Operations Manager
Richard Timleck: Director of Sales and Marketing Sports and Entertainment Solutions
Connecting with our community. Everyday.
At CBN Commercial Solutions we are dedicated to making Calgary a better place for everyone. After all, we live here too. By using the most advanced and secure products available we're creating world-class printing solutions while minimizing our environmental imprint. That's good for everyone.
What's more, we're proud to contribute to the culture of our community and support the following charitable organizations:
Ad Rodeo
Arts Commons
Alberta Small Brewers Associatiom
Alberta Magazine
Banff Centre
Calgary Food Bank
Camp Festival
Crime Stoppers
GlobalFest
NorthernStar Mothers' Milk Bank
Providence Children's Centre
Trans-Canada Advertising Agency Network
Wordfest
CBN Commercial Solutions and the Environment
CBN Commercial Solutions continues to innovate with and embrace eco-friendly technologies. Utilizing our 11kw solar array we have offset nearly 60 tons of carbon – the equivalent of five acres of forest – since going live on Earth Day, 2012. We are certified for Forest Stewardship Council® (FSC®) Chain of Custody and our goal is to create technically advanced and appealing print products while reducing our environmental impact.
Reduce, Re-use and Recycle – The two principal waste by-products produced by commercial printers are paper off-cuts/scraps and used aluminum printing plates. We aggressively recycle both, reducing plant waste to near zero. CBN Commercial Solutions recycles more than 540 tons of paper a year. To put things into perspective, every ton of recycled paper used saves: 17 trees; 6953 gallons of water; 3.06 cubic yards of landfill space; and 4077 Kilowatt hours of energy. We also recycle more than 9 tons of aluminum printing plates each year.
Certification means we care
FSC Certified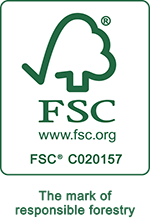 FSC Certification ensures that products come from responsibly managed forests, that have been evaluated to meet FSC's strict environmental and social standards; and also from other controlled sources.
Alberta Labour's COR (Healthy & Safety)
We received our Certificate of Recognition (COR) for developing health and safety programs that meet their established standards.